About Larry Phelps, Laserfiche Consultant
My passion in life is to help people and organizations use technology to be more efficient and effective.   If you are looking for ways to stand out from the pack, you have come to the right place.
I have been in the computer technology field for over thirty years as a programmer, test engineer, software engineering manager, sales engineer, sales manager, and founder/owner of a computer technology company.
It has been my privilege to work on consulting projects for a variety of organizations and individuals.  I have worked on projects for IBM, the U.S. Air Force, the IRS, Bell Labs, Compaq Computers, as well as hundreds of small businesses, community action agencies, non-profits, attorney's offices, cities, and other local government agencies.
I have helped many small to mid-size organizations move their IT to Cloud Computing.   Also, I have helped organizations streamline business processes using the Laserfiche enterprise content management system.
I work for a Laserfiche solution provider, Hemingway Solutions as Director of Sales and Marketing.  https://www.hemingwaysolutions.net/  
We help Community Action Agencies, Non-profits, and Small to Mid-size businesses go paperless and automate business processes.

Laserfiche Consulting Expertise Includes:
Application Approval Process
Case Management
Invoice Capture
AP Approval Automation
Dashboards and Analytics
ERP Integrations such as Abila, Great Plains Dynamics, and Tyler
Insurance Application Automation
Loan Application
Expense Report Automation
Contract Management
Mail Room Automation
Electronic Forms
Remote Work
Automated Document Filing
Client File Upload
Laserfiche Consulting Projects we have done:
Laserfiche Consulting by Industry:
Community Action Partnership
Community Health
Insurance
City Government
County Government
Finance
Collection Agency
Child Care
Head Start
Manufacturing
Distribution
Waste Management
Education – School District
Title Insurance
Public Utility Company
Energy Services
Public Health
Laserfiche Consulting by Department:
Case management
Energy Assistance
Housing
Accounting
HR
Public Works
City Clerk
Finance
Collections
IT
Compliance
Legal
Administration
Purchasing
Laserfiche Consulting by Laserfiche Product:
Laserfiche RIO
Laserfiche Avante
Laserfiche Workflow
Laserfiche Forms
Laserfiche Cloud
Laserfiche API
Laserfiche Quickfields
Integrations:
Microsoft Dynamics
ESRI GIS
Abila MIP
Tyler
People Soft
SoftPak (IBM Series)
Accountmate
and many SQL applications
Looking to Learn More About Laserfiche?
Here is a great video that will give you a good overview.
Wondering If Moving to Laserfiche Cloud Is The Right Solution?
I have helped many organizations determine if a self-hosted (on-premise) solution or Laserfiche Cloud was the best solution for them.
Productivity Improvement
Do you feel like you are not seeing the improvement you were hoping to see with your Laserfiche implementation? I have helped organizations like yours find simple solutions that help your staff become more efficient and effective.
Looking for a way your clients can securely upload documents to you? 
I have helped many organizations implement a portal that allows clients to safely upload documents and automate the processing of those documents without risking their security.
Are you a Non-Profit or Community Action Agency looking to streamline your organization?
You can read my book Destination Paperless, What Every Community Action Agency and Non-Profit Should Know About Going Paperless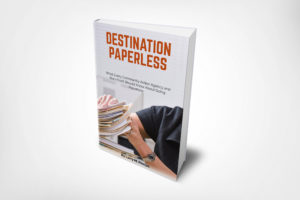 Or my book Paper-mess to Paper-less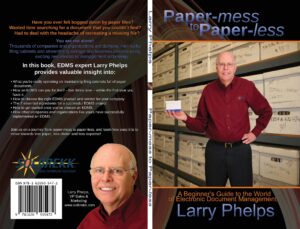 I hope you'll join me on the path to finding ways to use technology to help you become more efficient and effective.
Please feel free to contact me.
Larry Phelps
Phone: 612-382-4069 cell
Email:  larry.phelps2007 at gmail.com or
            lphelps at hemingwaysolutions.com
https://www.hemingwaysolutions.net/
Blog – Paper-mess to Paper-less
LinkedIn
YouTube Videos
Facebook
Google
Here is what some of my customers have to say:

"personal relationship in business is important …
it's the integrity of the individual that counts"

"it's really good to have a solid go-to guy when it comes to technology"

"If we have a problem – quick to respond – very very good to work with"

"We enjoy working with Solbrekk"

"Makes me feel like I'm the top priority"